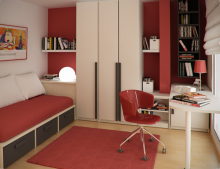 Hang a mirror across from a window. This will maximize the amount of light reflection into the room. Another good spot for a mirror is across from a doorway. This will give your room the perception of more depth.
Hang your curtain rod closes to the ceiling
Maximum natural light: rooms with a lot of natural daylight often appear larger to the eye.
Wall color
Often the best choice for a small room is to paint the walls very light or very dark.
keep wall decor and furniture to a minimum
opt for only one focal point in the room